In my last post, I introduced the five basic questions at the foundation for the Collaborative Coaching and Leadership Action Model. The basic premise of this model is that coaching, educating, and leading are about taking a person or group from where they are now to some place new. To accomplish this, it is important to understand ourselves. The importance of knowing self has become increasingly obvious as I have developed as coach, leader, and educator.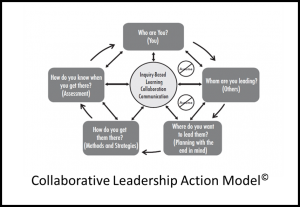 In one of the first National Soccer Association of America courses of my soccer coaching career, Doug Williamson, who became my coaching mentor, emphasized the importance of articulating your coaching philosophy. This required me to look into myself and figure out what I truly value and believe about coaching. In addition, Doug exposed me to Gallup's Seven Demands of Leaders. In the Gallup literature, it has been well documented that effective leaders know their strengths and weaknesses. They know self.
Through my work with Ron Bonnstetter, my education mentor, I was introduced to the process of self-reflection and its importance to the learning process. Through Ron, I met a new colleague, Andy Johnson. In his book Pushing Back Entropy, Andy emphasizes the importance of knowing self. He indicated that differences between people can be placed into three categories: the things we didn't choose; things that we choose, and things that are the mixture of the two.
Some examples of the types of things we can choose are how we view ourselves, how we choose to view others, the extent to which we want to learn, and our abilities to manage our emotions when interacting with others. It is very important to recognize that we all have our own tendencies related to how we interact with other people. Everyone has a behavior style that is influenced by many things including natural factors (e.g., age, gender, race, physical traits, and types of intelligences) and nurturing factors (e.g., socioeconomic status, family of origin, religious background, early childhood experiences). Regardless of the origin of your style, it is important for you to understand your own patterns and tendencies because they will influence how you interact with other people, how you communicate with them and how they perceive you. Johnson puts it best when he states that, "Healthy teams work to understand their own styles and the styles of the others on the team, so they can communicate and work with others."  I encourage to spend some time reflect on your behavioral characteristics, what you value, and your strengths and weaknesses. It will make you a better coach, educator, and leader.
For my details on the Collaborative Leadership Action Model, see my book, Focus on Them: Leading the  Mindset Revolution for Coaches, Educators, and Business Leaders on Amazon.